The mobile solar panels which were available on the marked can be categorized according their used solar cells:
Crystalline solar cells
These solar cells have the highest efficiency. So they need the least amount of space per Watt. Theoretically you can create small and light solar panels out of these cells, but they were sensitive to force. These cells are inserted into a thick layer of plastic or epoxy to prevent them cracking. In a crystalline solar panel the solar cells are connected in series. So the solar cell which is creating the least amount of energy is maximizing the overall output for all solar cells. Therefore these solar cells are only suitable to a limited extent under tree coverage.
Organic solar cells
These solar cells have a narrow efficiency. So you need a bigger surface area for creating the same amount of energy as if you were using crystalline solar cells. But their production is cheap and this type of solar cells is flexible. Due to their narrow efficiency they are not very common in the outdoor.
Amorphous solar cells
These solar cells are combing the strengths of the organic and the crystalline cells. Their efficiency is a little bit better and they are flexible enough to be rolled. These solar cells are connected in parallel. While the solar panel is partially shaded, the energy output reduced to the percentage of the shaded area.
The Powerfilm LightSaver is a great amorphous solar panel for the outdoors.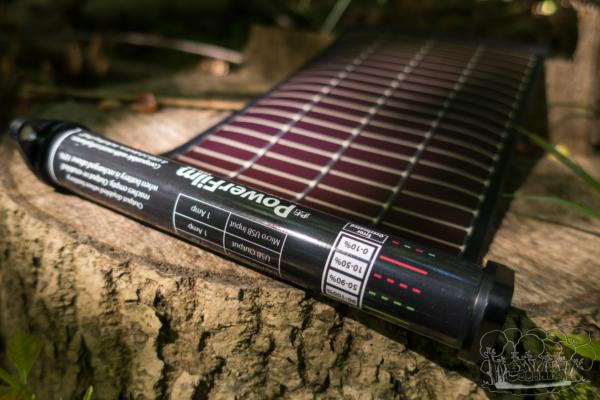 Within the last years my electric energy consumption decreased. I only got one camera, one small headlamp and an energy efficient smartphone with me on my trips.
internal battery voltage

battery size in mAh

Efficiency while loading

Days between charging

Needed Wh Watt hours per day

Smartphone Hisense A2

3,7

3000

0,7

3,5

4,12

Kopflampe Nitecore NU10

3,7

900

0,8

14

0,29

3,6

1250

0,8

6

0,90

Daily electric energy usage in watthours

5,31
Usually my hiking trips were under the timber line, which means I have to deal with shadows on the solar panel due to the leaves. For solving this issue I tested the LightSaver solar panel. This amorphous solar panel has an integrated battery pack with 3200mAh. When you want to store the solar panel, you have to wrap it around the battery component and fixated with two elastic bands.
It is advertised to be fully charged within six hours of sunlight. This means the panel should have wattage of around three Watt. The electric components which were used for charging the internal battery and for giving the voltage on the USB port have a good efficiency. This means this Panel is comparable to a 5W USB solar panel with a small battery pack.
I was thinking about different test scenarios to check if this panel suits my needs. For the first tests, I will check the harvested energy while I am at work. For comparison I will also collect the data in parallel with a 5 Watt solar panel and a small battery pack. The test time is always 8 hours.
Test 1 – Sunny weather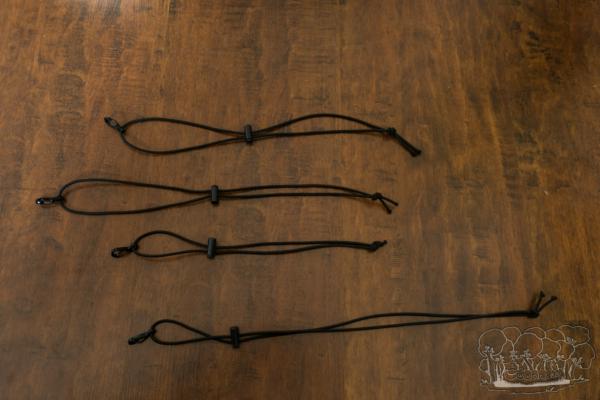 This test is run under ideal condition. These test settings are similar than walking higher than the timber line. The solar panels are most of the time in perfect conditions with sunlight. I was expecting that in this condition both solar panels are fully charging the battery pack. At the end of the time I charged my electronic devices out of the batteries and was noting the results.
In this test case both solar panels were flawless working. The solar panels were generating more energy than I needed a day. You can see that the LightSaver also works well as a battery pack. With one sunny day, I harvested nearly enough energy for two days. This additional harvested energy will be my energy buffer for days with bad weather.
Test 2 – unpredictable weather
When the solar panel is attached to a backpack, it should be comparable to unpredictable weather. Theoretically the amorphous solar cells should play their strengths.
Both solar chargers were working well in this test case. It's interesting that the solar charger with the lower wattage is generating more energy in this setting. I'm still generating more electric energy than I need day.
Test 3 – Shadow
This is the most difficult test. Both solar panels are completely covered in shadow in this test case. I have no clue which one is producing more energy.
The generated energy in this setting does not good enough for keeping my devices charged. In these days I have to use the integrated battery pack and wait for the next sunny days.
Backpack attachment
The LightSaver has an eyelet on every corner. So it was easy to use them for attaching on my backpacks. For having the solar panel attached to my backpack I have the following criteria:
The panel must not swing

The panel has to be easily detached in case of rain

The attachment has to be adjustable for my different backpacks

As light as possible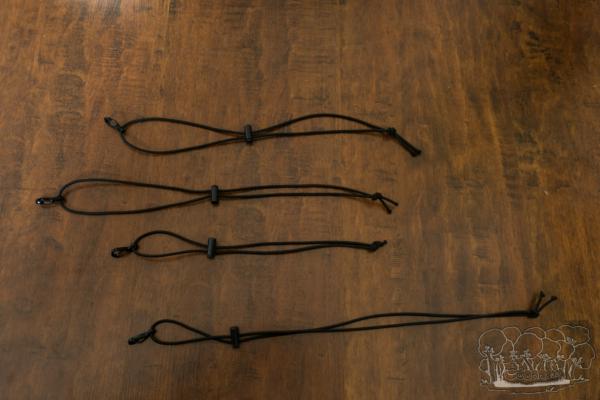 I came up with the following solution:
In general you got a loop, which is adjustable with the tanka and detachable with the carabiner. Let's show you some pictures of this attachment method.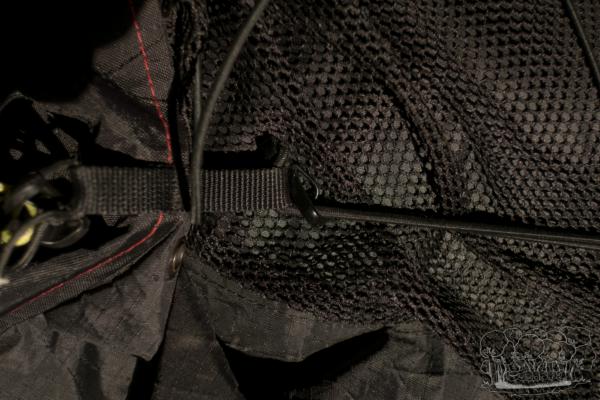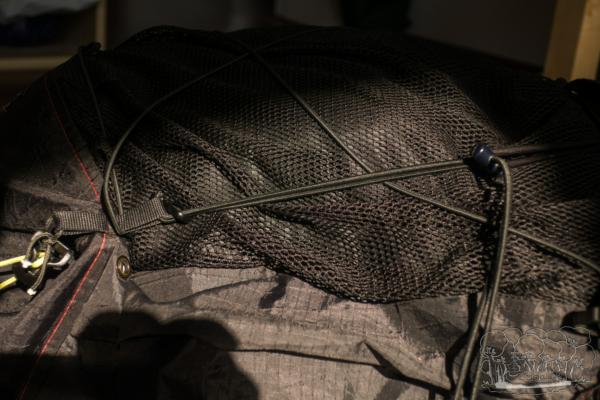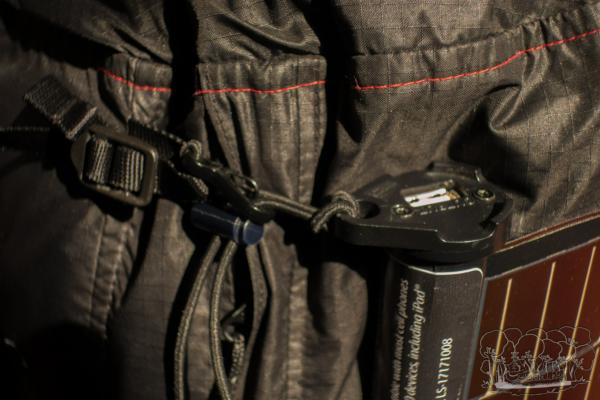 Test 4 – On a trip
Since the LightSaver worked great on the tests at home, it was the time to take it with me at a hiking trip. I took this panel at my summer vacation in Sweden 2017 (trip report is in German). But unfortunately I left the backpack attachment at home. So I had to improvise the attachment with cords. This improvisation worked, but the detaching was a pain. And I detached it during the breaks to better align it towards the sun.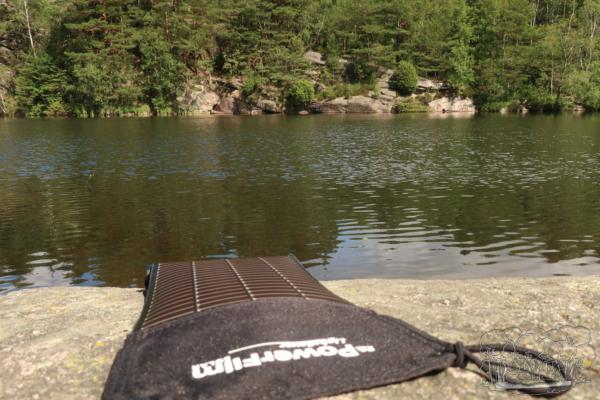 When we set up camp early, the solar panel was attached to the tent. Due to weight of the internal battery it worked flawless.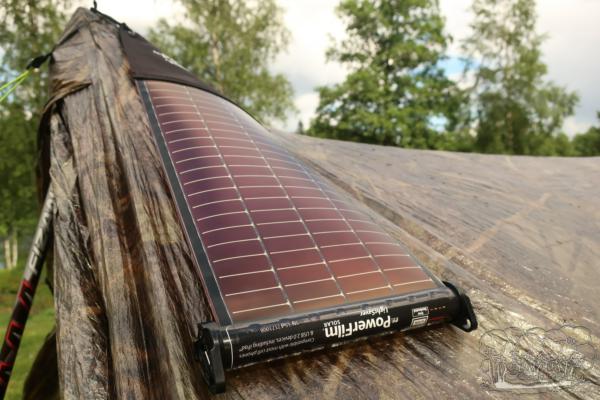 On hiking trips the easy to of the solar panel convinced me. For energy saving I only had to roll it out, there were no additional cables or components required. The internal battery starts charging whenever the solar panel generated electricity through the sunlight. This is clearly consistent with the KISS principle (Keep It Simple [and] Stupid!), which has also a central role in the ultralight backpacking.
Additional information:
The battery pack consumes up to 1.2 Ampere when charged via USB. In this case the charging takes about three hours. Pass-through charging is supported. So it is possible to charge a Smartphone and the integrated battery one at a time during the night without changing the USB plugs.
Conclusion:
The LightSaver works flawless on my hiking trips. The weight of a 5000mAh battery pack generates enough power to be independent of the grid. This means I don't have to go off trail to restaurants or camping sites or hotels for charging my devices. While using the LightSaver only as a battery pack, I'm able to get five days of energy out of this pack before I have to recharge it.
I will use this Panel on every trip between spring and fall on trips with more than four days. If this solar panel also suits your needs depends on your daily energy consumption.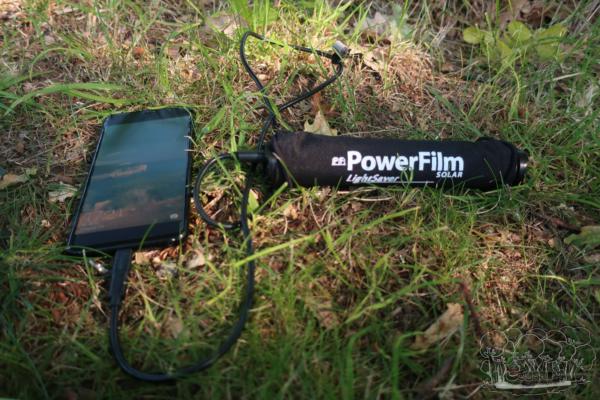 The Powerfilm LightSaver is available for 99$ at amazon.com.
Disclaimer: I got the LightSaver from the Powerfilm Inc. in exchange for a neutral review. This had no influence in the content of this article.
Kommentare